We are often asked how to research the history of one's house or business. First, we can assist you if you give us a call or send us an email. You can discover a lot of information on your own if you are willing to devote the time. Here are some basic steps to follow:
1. It is essential to locate the names of all previous property owners. We have discovered that many times, current property owners relied on word of mouth and unfortunately took their search in the wrong direction. So, take a trip to the Erie County Administration building and have someone help you search all the deeds going back to the original owner. Capture every name and take note of any peculiar information that is sometimes written in the margins. If you have an old property, you will be examining old handwritten documents bound in books.
2. Once you have names, two online data bases can be invaluable. Ancestry.com allows to search census reports showing who lived in the home at a given census collection. It also will lead you to other documents such as city directories, military enlistment, family photographs, and a variety of other useful pieces of information. If you are not a member, there are short term subscriptions that will keep your costs to a minimum.

3. A second data base that is very useful is Newspaper Archive. This tool allows you to insert a name, geographical locations, dates, and even specific words. Long ago, newspapers published a lot of local, personal information that reveals interesting things about your homeowners such as dinner parties, weddings in your home, wakes, family gatherings, news from overseas enlistees, graduations, and even things like a family member who had an accident or fell of a bike and broke an arm. The good news is that our own Sandusky Library subscribes to this service and even makes it available for members to use at home: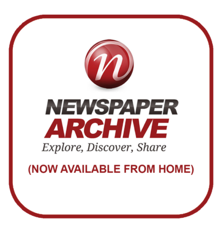 They have an extensive research engine page:
https://www.sanduskylib.org/research-databases/
And we should add that our library has wonderful staff who can offer additional tips in your search process!
Good luck!
back to The Old House Guild of Sandusky